Services open list:
 Civil Law:
* Real Estate law.
* Renting and various properties.
* Notary Law.
* Integrated Legal Advice.
* Commercial Law.
*Medition to solve comflicts.
* Claim payments.
* Bankruptcy procedure.
* Horizontal Property Law.
* Family Law.

__Separation and Divorce.
__Children Custody.
__ Ganancial society liquidation.
* Disputes and civil conflict.
*Quick judgments.
* Judgments of Faults.
*Verbal Traffic.
* Abbreviated Procedure
*Alcohol judgments.
*minor conflict
.
* Urbanity.
* Sanction procedures
* General administrative procedure.
*Despites.
*Claim Payments.

• Our company was established with the purpose of offering and undertaking a rigorous and professional service to satisfy the interests of our clients.
We advise within the wide world of Law and Justice that can affect both business and private predicaments and where our client's successes are an extension of our own interests.
In this sense, our service cannot be anything less than RIGOR and ACCURACY.
• Our legal capacities are offered mainly for personal affairs where there exists an intersection of social and individual nuances, of which our firm is committed to providing efficient and friendly assistance, ensuring a continuous professional service.
In this sense our essential space is Society, and as such without limits, and the social framework is basically JURIDICAL.
• Rigor Iuris, S.L., is a symbol of the important area of work we accomplish within law. Our company objective is what best determines our legal work and with this in mind it is impossible for us to forget the aims we have established.
The legal circuit enters all aspects of human society, and our work acts as a protection of our client's interests throughout their lives. It is this first quality cover that almost unperceived, but thoroughly, through firm decisions, deals with our daily work in the world of law and justice. 
• Our only duty is to guard our client, protecting as an unimposing companion, but promptly disposed to serve our clients daily legal interests. We are equipped with a legal knowledge that is respected within the legal field, and supposes an effective advantage, permitting positive results.
As a client of this company, you are our priority, and with this are converted into an essential and indispensable collaborator so in this way our work offers a far superior service than normal.
Only with our work and your collaboration, you can obtain best results.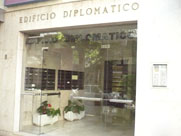 MARBELLA (Málaga) España
c/ Alonso de Bazán
Edificio Diplomático, Planta 6ª-Oficina 42
E-mail:
info@rigoriuris.net
Tlf.: +34952901177
Fax: +34952826144